ULTRATILEFIX CHANGES THE GAME WITH LATEST LAUNCH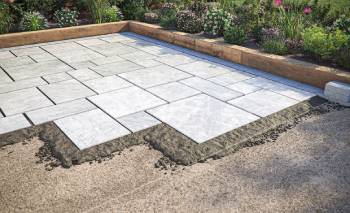 The tiling industry has seen a huge trend for indoor/outdoor living and with the help of UltraTileFix's latest product, you can help make those external tiling dreams a reality.
ProPave Mortar is a fibre-reinforced cement binder which, when mixed with aggregates and water, produces a rapid drying high strength bedding mortar, ready to receive popular floor finishes such as porcelain and natural stone tiles.
Suitable for depths of 30-100mm, ProPave Mortar is mixed with sharp sand and water for easy workability and can be used to raise the height of existing slabs to create a seamless transition between interior and exterior tiling.
ProPave Mortar is a fantastic 'one product does all' that will accept light traffic after just 12 hours and 24 hours in highly trafficked areas such as drives and pathways.
What's more, ProPave Mortar is fibre-reinforced for added strength and durability, increasing the life of your patio, and is quick curing, halving the time to traffic when compared with Portland cement.
ProPave Mortar can be used in conjunction with a Type 1 hard core base or existing concrete slabs and is proven is reduce build up, allowing for shallow applications at just 30mm.
Interested in finding out more? Why not book a free product demonstration with UltraTileFix's Site Support Team. To find out more, email ultratilefix@instarmac.co.uk or call 01827 254402.