CAESARSTONE WINS FX AWARD FOR METROPOLITAN COLLECTION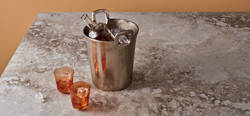 Caesarstone, the global manufacturer of premium quartz surfaces, has announced its victory at the FX International Interiors Design Awards 2018, in the Surface category.
The esteemed award goes to its recently-launched Metropolitan Collection, comprising of nine innovative, industrial-inspired surface designs. The awards were announced during a black-tie ceremony at the Grosvenor Hotel on Wednesday 28th November.

Jon Stanley, VP Marketing at Caesarstone UK, said: "Winning this award is a huge cause for celebration for our R&D team who have dedicated a lot of time and resources in creating this complex collection that truly pushes the boundaries of quartz material.

"The Metropolitan Collection is quickly establishing itself among specifiers across residential, commercial, retail and hospitality projects. It is the first surfaces range to thoroughly investigate the unique styles of the popular industrial trend, offering finishes never before available on the market."

The FX Awards invite both British and international design talent from all over the world to enter the very best of interior products and projects. Caesarstone was in good company with some of the world's most promising new designers and innovative suppliers who were also commended for their work amongst the A&D and specifier community.

Launched in May 2018, Caesarstone's newly curated Metropolitan Collection, features nine industrial-inspired designs for designers and specifiers working in urban and industrial styled interiors.

Steve Gibbs, Commercial Manager at Caesarstone, said: "With all the benefits and beauty of natural stone and real concrete, but none of the drawbacks, it's clear to see why quartz is a growing category for designers and specifiers.
"With the Metropolitan Collection, we are pushing the boundaries of quartz and bringing fresher design options to the table. Being shortlisted for this industry award is testament to our continuing innovation."

Caesarstone quartz has many design applications but is perhaps known best for its prominence as the ultimate innovative material for worktops; drawing inspiration from the aesthetic beauty of natural stone and combining it with the hardwearing qualities of quartz. A true virtue of the Metropolitan Collection lies in how it perfectly emulates and enhances the look of real concrete through nine different colours.

Cloudburst Concrete is one of nine colours that form the Metropolitan Collection which has won an FX International Interior Design Award.

www.caesarstone.co.uk