Cersaie 2021: The Show Must Go On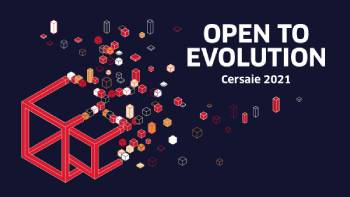 The Italian Ministry of Foreign Affairs and the Italian Trade Agency ITA have signed a €1.2m agreement with Edi.Cer. spa to support the initiatives of Cersaie 2021, the first international exhibition devoted to architecture, design, ceramics and bathroom furnishings to be held after the resumption of in-person trade shows.
The support of the institutions reflects the exhibition's important role for the Italian ceramic industry, one of the key areas of Italian manufacturing. Cersaie is due to be held in the Bologna exhibition centre from 27 September to 1 October and has already allocated 95% of the total available exhibition space. Some 40% of exhibitors are non-Italian companies, further confirming the international reach of the event and its importance for the local economy.
The largest share of resources will be allocated to organising visitor delegations from Germany, France, the UK, North America and the Gulf countries. The 2021 International Exhibition of Ceramic Tile and Bathroom Furnishings will host a total of 170 architects, distributors and journalists, a higher number than in the past. Among these, Cersaie will also be welcoming for the first time a group of leading players in the Contract and Real Estate sectors, an important segment of the construction industry which from this year onwards will have its own physical space in the Contract Hall.
In addition to support for Archincont(r)act, the area at the centre of Hall 18 occupied by 10 internationally renowned architecture firms, the agreement also includes the organisation of spaces for Cersaie's cultural programme Building Dwelling Thinking, as well as printed and digital advertising campaigns promoting Cersaie in key international markets.
"The Italian Trade Agency ITA has long been supporting CERSAIE and the ceramic industry, which is highly representative of the Made in Italy label worldwide given its distinctive combination of design and technology," said ITA's Chairman Carlo Ferro. "In Italy, in-person exhibitions will restart from mid-June onwards in full accordance with safety protocols. We want to maximise the results for exhibitors and organisers with the support of the country's institutions, including ITA. We are committed to achieving this by promoting the safety of trade fairs in Italy and in particular those organised by BolognaFiere by providing destination management services for international buyers and influencers."
Confindustria Ceramica's vice chairman Emilio Mussini said: "This agreement with the Ministry of Foreign Affairs and ITA is part of a longstanding fruitful partnership regarding initiatives in Italy and abroad.
"The ability to hold Cersaie as an in-person event once again and allow customers to get a first-hand view of Italian innovations is crucial for the international competitiveness of our sector. It is also very important for the recovery of numerous Italian companies which provide the services, accommodation and hospitality facilities that make the show possible."