COVERINGS TO CO-LOCATE WITH WOOD FLOORING EXPO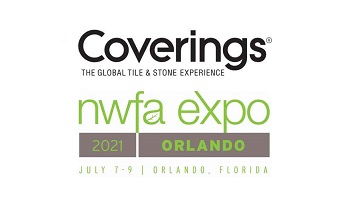 International tile and stone exhibition Coverings will this year be co-located with the National Wood Flooring Association (NWFA)'s Wood Flooring Expo, organisers have announced.
The events, which are due to take place from 7th-9th July 2021, will be held at the Orange County Convention Center in Orlando, Florida. The Wood Flooring Expo will be held in the South Hall, and Coverings will be held in the North Hall. Registered attendees, for either event, will have access to both show floors.
Both organisations rescheduled their events, which were originally planned for April, due to the ongoing restrictions as a result of COVID-19.
Michael Martin, NWFA President & CEO, said: "Opportunities often present themselves in times of crisis. Coverings and the NWFA Expo are consistently held within weeks of each other every spring. Given both organisations had to postpone their shows in April, it makes sense to be co-locating with Coverings to bring additional value to attendees of NWFA's Wood Flooring Expo.
"We know from our membership surveys that NWFA members generally install and distribute multiple types of hard surface flooring. Combining the education and show floor for real wood, with the education and show floor for natural tile and stone, provides our members with opportunities to see more products in one place. They essentially will be getting two shows, at the same time, both of which promote natural flooring products."
Jennifer Hoff, President of Taffy Event Strategies, which manages Coverings, says that "co-locating with NWFA's Expo helps Coverings reaffirm its commitment to provide a safe, in-person event that unites the natural, hard surface flooring industry. Every step is being taken to ensure the events follow all guidelines recommended by the Centers for Disease Control and Prevention, as well as federal, state, and local government agencies."