Diespeker Launches In-house Pendulum Testing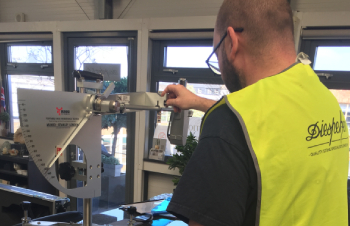 Leading London natural stone and terrazzo supplier Diespeker & Co has introduced in-house pendulum testing to give clients additional peace of mind.
The move came in response to a marked increase in concerns about levels of slip resistance, plus the well documented rise of the compensation culture
Diespeker has already been busy formalising the adherence of its flooring options to the required standards and is able to confirm that many surfaces already meet or exceed the Health & Safety recommended minimum value of 36PTV.
However, taking this a step further the company has announced a new in-house pendulum testing service.
Managing Director, John Krause said: "For all clients, including architects, designers and contractors, it means that slip testing is much more immediate because we can instantly evaluate the slip resistance of any of our natural stone or flooring options prior to specification."
"In future months when we are able to welcome clients to our premises again, we look forward to being able to live-test the surfaces under discussion with the client present.
"If a surface doesn't meet compliance, we can then look at other options such as changing the grade of finish, opting for cement rather than resin or vice versa, or choosing marble over granite. As many suppliers outsource this service, it is a real bonus for us to be able to provide this as part of our comprehensive in-house provision."
The pendulum testing service is carried out by trained, certified team members, and means that clients will be better informed to make decisions right at the start of a project saving a good deal of time.
Diespeker will provide a full written report and in-house certification (not BSI or UKSRG) once the flooring is installed.
In addition, Diespeker has also introduced Non Slip 21 treatment to ensure compliance. The service includes:
•Floor preparation for the installation of Non Slip 21 application
•Installation of Non Slip 21
•Testing with the pendulum meter to ensure 36PTV + has been achieved
•Providing a full written report with certification, cleaning regime and one-to-five-years warranty (T&C apply)