You are here
>
>
Parkside Antibacterial Tiles
Make Surfaces Safer with Parkside Antibacterial Tiles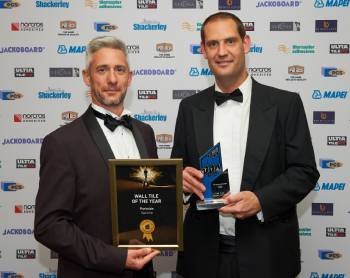 Parkside has launched four new wall and floor tile collections with built-in antibacterial protection.
Years of research have resulted in wall and floor tile collections with antibacterial protection. Inspired by nature, the collection's built-in technology uses tin oxide and titanium oxide to create a finish that is antibacterial and anti-viral.
Now available in Beat, Sylkin, Larkham and Tyne, the technology is proven to eliminate 99.7% of common bacteria. Unlike similar products, where the antibacterial properties fade with time, Parkside's protection is permanent and lasts for the lifetime of the tile. In fact, the technology is enhanced by solar and artificial light, yet still performs under dark conditions.
Making businesses and public spaces safer and more hygienic around the clock, the tiles also require less use of cleaning chemicals or detergents, while bad odours are also eliminated. Available in a range of looks, including authentic Tyne brick in red and white and delivering 36+ PTV, the collection answers the need for floors, walls and surfaces that are durable and easy to keep safe in hospitality, leisure and other commercial projects.
Brian Linnington, Managing Director, Parkside, said: "This new technology has been years in development and represents a significant step in hygienic porcelain wall and floor tiles. Not only antibacterial but anti-viral as well, the collection can help businesses with a more sanitary tile surface that is easier to keep clean."
Parkside recommends the use of an epoxy or antimicrobial grout. Epoxide-resin-based grouts are impermeable so provide a degree of inherent protection, while remaining easy to clean thanks to a smooth surface. Containing Microban, antimicrobial grout continually destroys and inhibits the growth of bacteria, mould and mildew.
For further information, email info@parkside.co.uk or call 0116 276 2532