Introducing the Streamlined Quantum Brand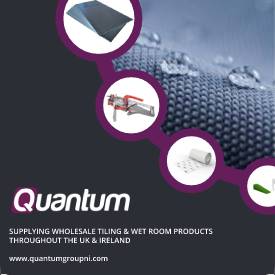 In 2019, TilePal, a leading Scotland based supplier of tiling products became part of the Quantum Group, and the company has now announced that TilePal will now be trading under the Quantum Group brand.
There are no doubts that 2020-21 proved to be a transformational time for many businesses, yet Quantum has successfully expanded its operations into new areas, as demand for their wide product range continues to grow. Despite the expanding trading area, Quantum is a family business with a firm belief in hard-work, and they will continue to supply their products with the excellent service the company is known for.
Scott McCormack, Internal Team Leader, said: "This is a transformation time for the Quantum Group and the team is pleased to fully incorporate the experienced TilePal team under the Quantum Group brand. As we transition to a single solid brand which reflects our commitment to innovation and customer service, there will be no disruption to operations within our Perth based warehouse.
Both the Quantum and TilePal team have decades of experience, so you can trust us to provide the industry expertise and most innovative products you need. This is an exciting time for the Quantum brand and we are looking forward to offering our sector-leading products and practical experience throughout the UK and Ireland."
Quantum Group NI is a family business with a commitment to hard work and innovation. As a leading supplier of tiling and wet room products, the company is passionate about its extensive product range.
Quantum will continue to operate on a trade-only basis, so if you are interested in stocking any of the Quantum range of products, please contact the team on: +44 (0) 28 7131 2064 or email sales@quantumgroupni.com.