You are here
>
>
Tile of Spain Gets Set For CERSAIE 2021
Tile of Spain Gets Set For CERSAIE 2021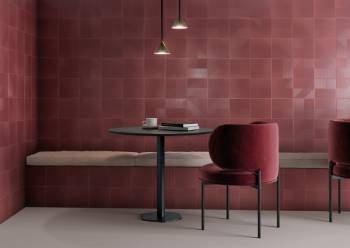 A group of 84 companies of Spanish manufacturers of ceramic floor and wall tiles will participate again in the CERSAIE 2021 Trade Show from 27 September to 1 October in Bologna, Italy. This will be the first trade show to take place in person after the mandated cancellation of the show in 2020 due to the pandemic.
The high number of companies participating is a testament to the industry's commitment to export markets and a reflection of the global nature of the Italian fair and its visitors. In spite of continued uncertainty and the travel restrictions still in force for some countries of origin, turnout is very strong.
The organisation has confirmed the participation of companies from 26 countries with manufacturers from Spain forming the largest group after the Italians. During the week of the show, and the week following, a digital version of the fair will also be available.
The Spanish Ceramic Tile Manufacturers' Association (ASCER) has created a dedicated web pagetileofspain-cersaie.com as an online catalogue with information on each of the exhibiting companies. As well as contact information and images, the website showcases new products presented by each exhibitor and has a simple company search both by hall and alphabetically. This microsite has been designed to offer simple and fast information of the Spanish exhibitors at the fair from mobile devices.
Other activities include a social networks advertising campaign among potential visitors to the show prior to its celebration, during the event, and the week after it. The social networks campaign will be accompanied by an intense monitoring of the fair from the Instagram profile @tileofspain and through the hashtags #TileOfSpainAtCersaie and #TileofSpainisback.
Growth of exports in 2021
The exports of the industry in the first six months of 2021, made to 183 countries, has reached €1,799.7m, which represents a cumulative growth of 35.7% compared to the same period in 2020. In comparison with the sales of 2019, excluding of course the effect of COVID, growth in the January-June period was 22.8%.
Almost half of all exports (48.8%), worth €878m, went to European countries, of which 37.5% went to EU member countries. France stands out as the number one market and main European destination with an increase of 41.5%. Growth was strong, too, in other countries: United Kingdom (45.4%+), Italy (50.3%+), Germany (13%+), Portugal (23%+) and Belgium (31.3%+). Outside of the EU, the United States is the main destination market, occupying the second place in the ranking with sales until June, of €210m (34%+).
TILE OF SPAIN
Tile of Spain is the voice of the Spanish tile industry, encompassing more than 120 tile manufacturers. Renowned worldwide for an inspiring blend of aesthetic and technical innovation, Spanish tiles draw on a rich heritage of skill and creativity while remaining at the cutting edge of design.