MOSAIC ARTIST 'CHANELS' TALENT WITH PERFUME BOTTLE CREATIONS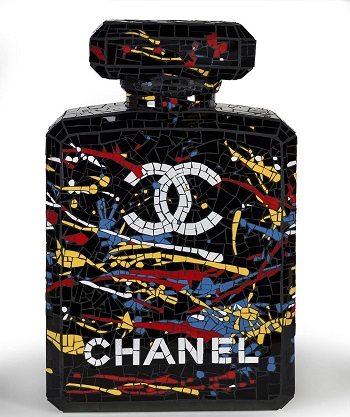 A celebrated Manchester artist has added to his expanding multi-million-pound portfolio with a new trio of Chanel perfume bottle mosaics.
Acclaimed mosaic artist David Arnott, supported by adhesives manufacturer Palace Chemicals, created three new Chanel-inspired mosaics for the Marlow Contemporary art gallery in Buckinghamshire - part of the Clarendon Fine Art Group, which has its flagship gallery in London's Mayfair.
While David is already well known for creating all kinds of ambitious and highly-prized artworks, he says this latest project, involving the construction of Chanel bottle mosaics in both two and three-dimensional formats, has been one of the most challenging of his career.
David said: "I approached the two-dimensional mosaic in the same way as previous flat images of celebrity icons like Steve McQueen and David Bowie. But the 3D perfume bottles were much more complex.
"The slippery curves of the base plastic, combined with the sheer weight of the glass and ceramic fragments, meant I needed an adhesive with instant grab, but with enough time for adjustments - so I was very happy to have the expertise of the Palace guys at my disposal!"
David used Palace Chemicals Grab & Fix MS – a polymer adhesive that he first used when securing black diamonds to a £250,000 handbag mosaic.
Some of David's most notable recent creations include a £4 million roulette table, a six-foot koi carp built from gold tiles and Swarovski crystals – and even a lavish 19-foot Christmas Tree, featuring baubles adorned with Cartier and Chanel jewellery with an estimated value of £12 million.
It seems that the importance of the adhesives and grouts David uses on artworks like these is equally clear to the MD at Palace Chemicals, Charles Clapham.
Charles said: "We know how technically challenging some of David's pieces can be – and we know the potential implications involved if any of our adhesives should fail.
"So, I guess there is a bit of pressure on our products to perform. But if they can cope with upside down diamond fragments and heavyweight chunks of glass on slick, inverted surfaces, it's fair to say they'll do a first-class job on more conventional household and commercial jobs!"