You are here
>
>
Surge in Construction Project Starts
CONSTRUCTION-START LEVELS HIGHER THAN BEFORE COVID-19 PANDEMIC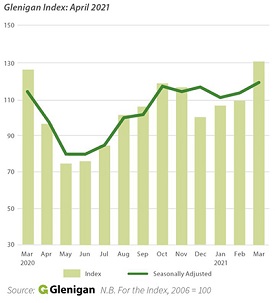 Construction project starts have surpassed pre-lockdown levels, new research from construction market analyst Glenigan has revealed.
The value of underlying construction work (under £100 million) commencing on-site during the first quarter of 2021 was 5% higher than the previous year and 2% higher than the preceding quarter on a seasonally adjusted basis.
Residential project-starts experienced spectacular growth, having climbed 17% against both the previous year and preceding quarter.
In contrast, non-residential work starting on-site declined 2% compared to a year ago and the previous quarter.
Underlying civil engineering project-starts experienced the weakest period, having declined 12% against the previous year and 30% compared to the preceding quarter.
Rhys Gadsby, Glenigan's Economic Analyst, commented on the latest figures: "Project starts have grown strongly despite the UK being in national lockdown for the majority of the first quarter. Starts are at their highest level since September 2019. Private housing experienced a particularly strong period and was the main driver for overall growth, although industrial, offices and retail also achieved strong growth.
"Looking ahead, the construction industry and its clients should have greater confidence to move more projects to-site during the second quarter, as lockdown measures are progressively eased."
The full figures can be found here.