JOHNSON TILES GOES PLASTIC-FREE WITH SUGAR CANE ALTERNATIVE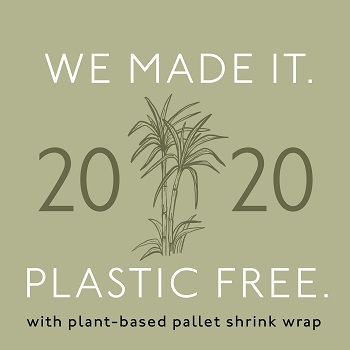 Tile manufacturer Johnson Tiles has achieved its goal to become plastic-free, by introducing new sugar cane packaging.
To deliver against its ambitious targets, the company has embarked on a joint venture with a specialist packaging partner to make sustainable stretch wrapping for pallet stabilisation. Setting out to go plastics-free in April 2019, the company achieved its goal within an ambitious 10-month timeframe.
Johnson Tiles' Head of Procurement & Production Support, Jason Bridges, led a review encompassing all elements of the firm's packaging to establish the potential for change. Polythene has traditionally been used to wrap the firm's pallets ready for delivery, protecting the tiles from breakages in transit. The polymer used to make this protective layer is usually made from chemicals extracted in fossil-fuel production.
Working with Polythene UK, Johnson Tiles sourced a sustainable alternative made instead from the waste from sugar cane farms. By utilising this waste, no excess product is harvested to create the wrapping.
Certified by the UK's Carbon Trust, the 'Polyair' product, manufactured under licence by Polythene UK, provides a 100% recyclable, carbon neutral solution. Being bio-based, the sugar cane actively absorbs CO2 from the atmosphere, as well as releasing oxygen during the process of photosynthesis. Not to be confused with oxy-degradable products that cannot be successfully re-used due to the change in the molecular structure of the 'plastic', this 'green' polythene can be infinitely recycled, providing there are the means to do so.
At present, there is no choice but to ship the polymer from overseas, which is the same for conventional fossil fuel polymers. However, working in partnership, Johnson Tiles and Polythene UK are determined to establish a 'take-back' scheme that would enable the recycling of Polyair wrap here in the UK, rather than using virgin material.
While still only being at the trial stages, Johnson Tiles committed to two years' worth of stock.
Eliminating plastic is just one of many initiatives Johnson Tiles has undertaken to strengthen its environmental credentials as a manufacturer with a heavy reliance on packaging that is safe, secure and presentable. As well as sourcing 100% recyclable cardboard pallets for smaller deliveries, the company has invested in shredding machines to break down this cardboard so that it can be reused to protect products during shipping, as a sustainable alternative to bubble wrap. The PP straps that once secured goods are now also 100% recyclable paper.