You are here
>
>
Mosaic Art Installation
MOSAIC INSTALLATION INSPIRES CHILDREN TO 'SPREAD THEIR WINGS'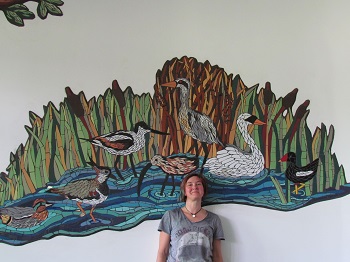 A well-known mosaic artist has teamed up with a Liverpool-based tile adhesives company to create an inspirational artwork for Dulwich College, an historic South London school.
Delighted to be revisiting a project she first began in 2017, Tamara Froud has been commissioned by DUCKS, Dulwich College Kindergarten and Infants' School, to create a wall-mounted mosaic at the building's main entrance.
Tamara said: "I created the original mosaic in 2017 to depict various types of duck and wading birds, like a swan, a heron, a moorhen and a curlew. Each was designed to represent one of the eight classes in DUCKS, the infants' section of Dulwich college. But after adding another three classes, DUCKS has called me back in to expand the scene."
The mosaic, which was originally commissioned to celebrate the 25th anniversary of the kindergarten and infants' section of the Dulwich College, combines exterior-grade ceramic tiles with red and white stones from the New Forest and brightly-coloured opaque glass.
Having been supported with specialist adhesives and grouts by Palace Chemicals & LATICRETE UK for nearly five years, Tamara said: "The three new birds- a puffin, a mandarin duck and a sandpiper- are all being prepared in my Catford studio. I'm sticking the tiles, glass and stones to a mesh backing with Laticrete 254 and adding a little Palace Tiler's Primer for some extra adhesive power. That enables me to feel confident that, when I install the finished pieces onto the wall, all those tiny pieces will stay exactly where they belong.
"COVID permitting, the plan is to now visit the school during the half-term break, so the new work can be integrated into an expanded version of the original mosaic. By using colour-matched Palace Colour Lock grout, it should look like the new birds were always part of the original scene."
Miranda Norris, Head of DUCKS Kindergarten & Infants' School, commented: "Tamara's mosaic of ducks brings a smile to everyone's face, and the children thoroughly enjoy identifying their own class bird amidst the scene. We're delighted to be able to add a further three birds to this wonderful artwork."
Knowing the requirement for protection against the elements and longevity of life, Commercial Director Steve Ball is delighted that Palace / LATICRETE UK remain the go-to solution for mosaic professionals like Tamara.
Steve said: "Having supported various artists over the years, we know how valuable mosaic installations can be to community life. A bespoke mosaic is something people can take pride in to feel a part of, so we're delighted to be able to support Tamara in a project like this."