ENTRIES OPEN FOR SCREWFIX TRADE APPRENTICE 2021 COMPETITION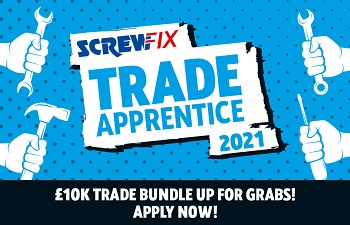 Trade apprentices could win a prize bundle worth £10,000 in the Screwfix Trade Apprentice 2021 competition.
The annual award is returning for its 7th year, to celebrate the next generation of tradespeople as they aim for recognition at the start of their chosen careers.
One talented individual will be named as Screwfix Trade Apprentice 2021 and will receive a career-boosting prize package worth £10,000. This includes £5,000 of tools, a £3,000 training budget and £2,000 worth of technology. The winner will also get £2,000 for the college where they study.
Simon Jackson, Screwfix Customer and Digital Director, said: "We are thrilled to be back with our Screwfix Trade Apprentice competition as we search for exciting new talent in the construction industry. Every year, we are amazed by the outstanding quality of entrants and, this year, we are on the lookout for apprentices who go above and beyond to succeed within their chosen trade.
"We've seen how this career-boosting accolade and £10,000 prize bundle helps kickstart an apprentice's career. Good luck to everyone who enters, we can't wait to crown our winner!"
Chris Keel, Screwfix Trade Apprentice Winner 2020, has had an incredible year. Currently working in Joinery and Carpentry, Chris believes that, despite the COVID-19 pandemic, winning the competition has put him five years ahead of his career plan. In just 12 months, Chris has been able to take on bigger and better jobs and has treated himself to a van, laptop, apple watch and tools.
Chris said: "Winning has enabled me to pursue my dream and advance my studies. The Trade Apprentice competition has been an amazing opportunity and a brilliant step into launching my career. I would really encourage anybody just starting out to enter as it really has the potential to change everything for you."
Apprentices can enter directly or be put forward by their college lecturer or their employer. It's completely free and is open to all apprentices who are in college or working with a mentor. All entrants must be over the age of 16.
Entries are open between 8th February – 21st February. To find out more, visit screwfix.com/sfta